As France head away from a painful loss against England in the 6 Nations – their fifth straight loss in the tournament – many people are starting to wonder what has happened to the French.  After all, at the last World Cup they came so agonizingly close to lifting the trophy, so was that a fluke, or are they simply in a temporary lull?
It's always been the case that the French have been someone temperamental. Like the individual players, the team sometimes plays with flurries of brilliance, but easily gives up when the chips are down. Take the match versus England – a brilliant piece of individual skill by Fofana put France in the driving seat, but as soon as England regained the lead and the game closed up, heads went down and England easily gained the upper hand. This was the same against Wales and even in their most surprising loss, against the impressive Italians.
Now contrast that to the way the French played in the World Cup. Nobody can claim that they are the greatest French team to ever play, but when they went to New Zealand, they had passion and belief – a belief that increased throughout the tournament as they beat both England and Wales en route to the final. They even bounced back from a shock loss to Tonga in the group stages, which is a true indication of the belief and confidence they had just two years ago.
After five straight defeats in the 6 Nations though, the temperamental French have their heads low and don't have the drive to bring themselves out of their rut. Going to Ireland for their next match won't be an easy task either – the Aviva Stadium is intimidating at the best of times, and Ireland will look to pick off a weak French side. If the French manage one win during the whole tournament, they will be lucky, as even Scotland look to be steadily improving.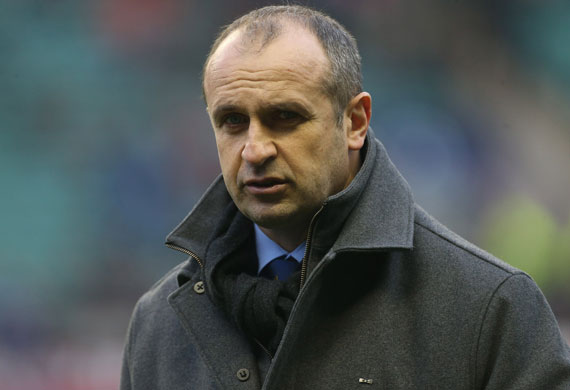 The French team also seem to be suffering from a chronic lack of management, with Philippe Saint-Andre coming under heavy criticism from the ravenous French media. His policy of playing certain players out of position backfired against the Welsh and Italians – when he picked a more solid lineup against the English, they looked much more effective. They simply came up against a better team on the day.
So, the French problem is two-fold. They simply don't have the attitude to win at the moment, while the team selection has been questionable to say the least. Both of these are the fault of the coach, so don't expect to see Saint-Andre in his position much longer if he can't force a dramatic turnaround…
Article written by our Australian correspondent Ilan Hurwitz.  Ilan runs the Australian web site Football Jerseys Online where he provides soccer and rugby fans in Australia with Jerseys from the most popular teams including the British & Irish Lions and Qantas Wallabies.