Who should be in Gatland's 2013 Lions Coaching Team?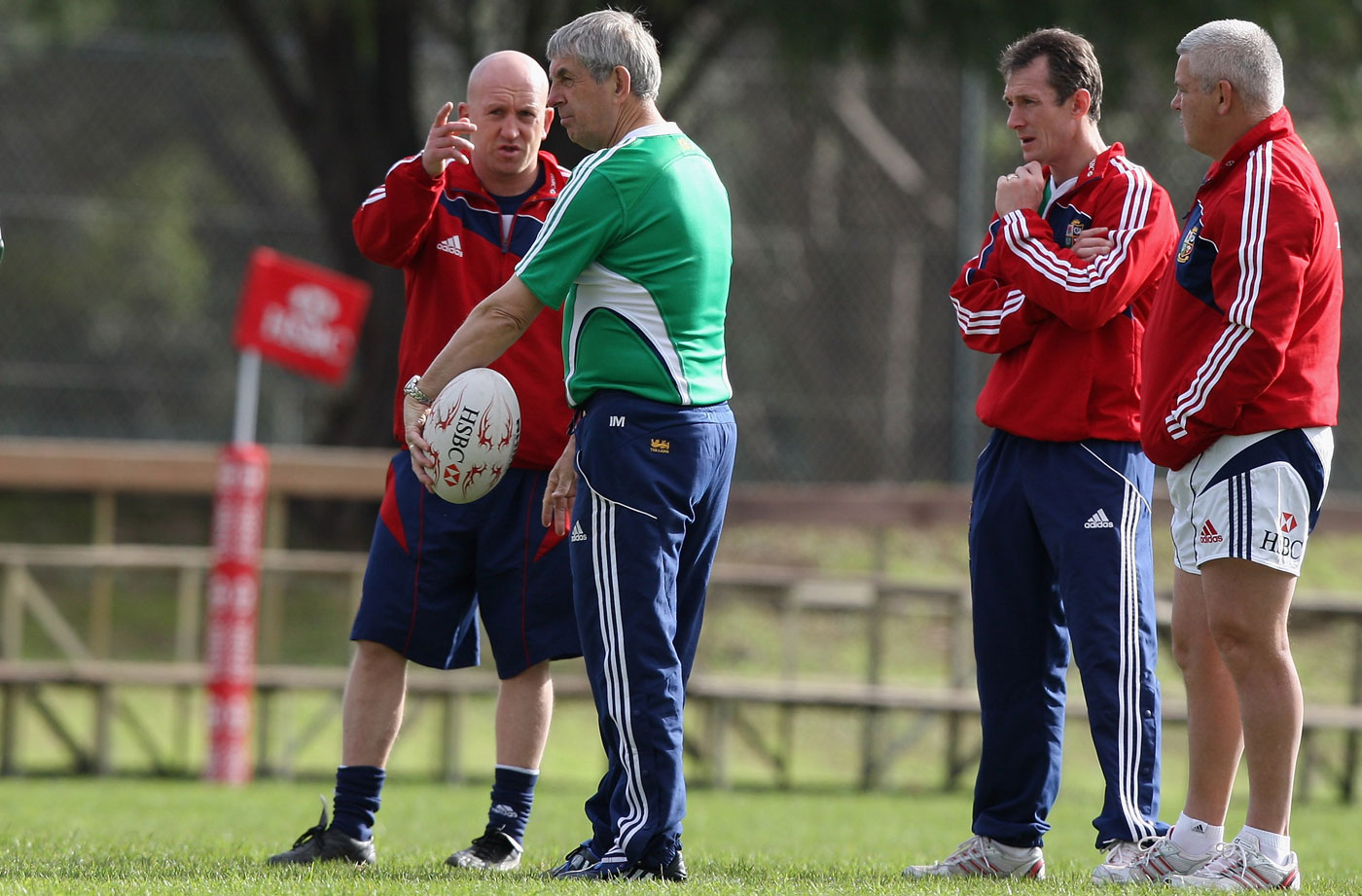 With Warren Gatland confirmed as British & Irish Lions Head Coach yesterday, it's very easy for people to assume they could automatically name the make up of the Lions coaching team. We'd all say Shaun Edwards, Rob Howley and Graham Rowntree right? Well, not necessarily…
We would normally assume that Gatland would be keen to promote his successful Wales coaching team into the Lions set up and recreate the magic that has seen Wales take Northern Hemisphere rugby by storm. However there are a number of potential problems for Gats to consider as follows:
All Welsh Coaching Set Up
Great for the consistency for the Welsh boys, but what about everyone else? Squad unity is absolutely crucial for any Lions touring party to work. If there is too great a representation from one particular union then it's always likely to cause divisions should anything start to go wrong. Someone who does not get picked for the test side will always have cause to think that another has been chosen due to their nationality. It's not necessarily favouritism as such, but more familiarity. It amounts to the same thing though and is likely to be divisive. If the rot then starts to set in with some bad results and a few players feeling marginalised, things can go from bad to worse very quickly.
The tours in 2001 and to a greater extent in 2005 showed what a disastrous effect this can have on group morale. In 2005, Sir Clive Woodward relied too heavily on his ageing world cup winners, despite Wales comfortably winning the Grand Slam in the spring. Woodward also operated a two team structure with his test team and midweek sides training and being coached separately. The effects split the camp in two and the tourists were whitewashed by the hosts.
Sir Ian McGeechan led a much smaller team to South Africa with a smaller number of coaches drawn from different backgrounds and a united squad, and very nearly came away with a series win. Geech's efforts showed how the Lions coaching set up could create great squad unity in a Lions party in the modern era so it is vital that this is continued through this Australia tour.
It should also be considered that if the entire Welsh coaching team de-camps to the Lions then who will look after the welsh tour to Japan? They could place a temporary coach in charge, but then those players on the tour will know that their coaching team are only there temporarily and will be likely to take the tour much less seriously. Rob Howley is leading Wales in Gatland's absence for the two smaller tests in the autumn and for the Six Nations campaign so there would be consistency for him to remain at the helm for the Japan tour.
Who will be captain?
What happens if Gatland wants to recruit Sam Warburton as his captain? Welsh head coach, defence coach, backs coach and captain, with only Rowntree as the sole coaching experience from outside the welsh set up?
Warburton is the outstanding candidate for captain. His presence and leadership by example make him the ideal choice as captain. With no leading alternative candidate presenting themselves at this point in time nine months out from the tour, it could be a potential problem for Gatland. Let's take a look at the test captains from each of the home nations. Warburton, Brian O'Driscoll, Chris Robshaw and Ross Ford. Aside from Warburton, none of the other candidates seem nailed on for a Lions starting test berth which is the first pre-requisite for Lions captaincy.
And what of Paul O'Connell, the Munster and Ireland lock who captained the Lions to South Africa in 2009? It appears he isn't even captain of Munster now with New Zealander Doug Howlett having been given the armband for the 2012-13 season. If not captain of club or country, would he warrant handing the armband for a second successive Lions tour?
So other than Warburton, where else does Gatland look?
Representation from Scotland
Let's be brutally honest here, you would think that aside from a handful of really exceptional talents like Ross Ford and Richie Gray etc it's likely that the numbers from the Scots will once again be limited in the touring party.
But that statement does Scotland a huge disservice given that they were the only home union to take a southern hemisphere scalp this summer. Let's let that sink in a little. For a country that so few people believe would genuinely offer a number of potential tourists, Scotland beat Australia in Australia and were the only side from up here to go down there and turn a southern hemisphere side over on their own patch.
We think even the most one eyed of Scots would agree that whilst the victory was a fantastic win, it was after all a win ground out in terrible weather conditions with the rugby playing second fiddle to the conditions. We're pretty sure that had the game been played in perfect conditions, Scotland would have lost, however the fact remains that Andy Robinson and the Scottish coaches played the conditions and Australians superbly. Therefore, if they coached the Scots to a win in Australia, why should they not be considered by Gatland to repeat the trick next year?
So who are the contenders?
Let's start with the two virtually nailed on certainties first, then consider the tougher decisions…
Defence Coach
It would be difficult to look past Shaun Edwards. The Englishman has helped shape the Welsh defence into the Grand Slam winning side they are. He is also the mastermind behind the successful defence of Wasps throughout their successful period, winning league titles and European cups. Edwards also ran the defence for the Lions tour in 2009 so has experience of running a defence within the constraints of a demanding Lions tour environment. Edwards has an established rapport with Gatland and it's unlikely any other coach would be considered.
Scrum Coach
Graham Rowntree is the bright young thing of English coaching. England may lack the attacking dynamism of the Welsh, but there is no doubting the obvious advantages that the England pack gain at scrum time. Rowntree has developed into an excellent coach and, like Edwards, also has experience of the Lions set up having toured with Gatland and Edwards in 2009. It would be somewhat of a surprise should Gatland look elsewhere.
Attacking Coach
This is probably the hardest call to make. As discussed above it would be difficult for Gatland to pick Rob Howley. Despite his obvious qualities and experience, it would be difficult for squad unity for a further member of the Welsh coaching team to go, especially given the lack of replacements in the Welsh coaching staff to lead the team to Japan in the summer.
As has been suggested on this site and elsewhere, would it make the most sense to give Joe Schmidt a call? Schmidt has turned the Leinster backline into an attacking force which has steamrollered its way to back to back Heineken Cups. The attacking play from Leinster over the last two seasons has been breath taking and it would surely be to the Lions benefit to employ a coach with such successful modern methods with which to attack the Wallabies.
There are plenty of options for Gatland to choose from, indeed there are other names that haven't even generated a mention here that should probably be thrown in the ring.
What about former Scotland defence coach Graham Steadman? He engineered a superb defence to beat Argentina in 2010, which is a feat South Africa failed to match a couple of weeks ago. And he did it twice in consecutive weekends. He also marshalled the defensive effort that beat Australia in Australia this summer which is even more relevant and impressive, not to mention the two home wins against South Africa and Australia in the November tests last year. His qualities should not be overlooked.
And what about the other international head coaches? Stuart Lancaster and Andy Farrell have reinvigorated an out of sorts England team. Declan Kidney and his team have produced some outstanding performances from Ireland (especially from possible test fly half Johnny Sexton) and we must not overlook Andy Robinson who has made Scotland competitive once again.
So who does he pick? There are some excellent options for Gatland and it's vital he makes the right choice to protect squad unity whilst giving the Lions the best possible chance of a series victory down under.
If it was us doing the picking? Well, who we think he will pick is different from who we think he should pick, but we'll save that for another article.
What do you think the make up of the Lions coaching team will look like? Should Howley be taken on tour? What about a potential lack of Scottish representation? Given Scotland's defence performances in recent years, should Steadman be approached? Send us your thoughts using the comments box below or drop us an email and we'll print the best ones on the site.